I'm happy to be linking up with
Carylee
and
Gina
again today for another Manic Monday.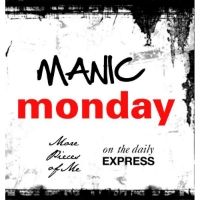 Today wasn't very manic. The weekend on the other hand, that's a whole different story. So after we got the great news that we got two offers by the end of Saturday, we were just going to proceed with the showings we had already committed to for Sunday and then choose one of the offers. Our realtor went ahead and changed the listing to require that all offers be submitted by 5pm on Sunday. So imagine our surprise when our agent called us at 4 o'clock yesterday to inform us that we had...FIVE offers. FIVE. Holy cow. What really sealed the deal was a letter one of the buyers wrote us. They told us how much they fell in love with our house. That they had been looking for a long time and the process has been hard. Especially for their little girl. They said she fell in love with our house and how she just couldn't wait to have a backyard of her own to play in. Reading that on Mother's Day tugged at my heart strings and I just knew these were the people that needed to buy this house. So by 6:00 we had instructed our realtor that we would accept their offer.
It was bittersweet signing the contract. I was sad to be leaving the house that J and I first bought together. The house where we said goodbye to our furbaby, Toby. The house where we brought Nathan home two weeks later. So many firsts. So many memories. I think my fondest memory will be of him sitting in my lap and looking out the living room windows at the tree branches swaying in the wind. I looked at his innocent little eyes taking it all in and wonder what he's thinking about. It's surreal that we won't be living here within a month. Then I think about the excitement of this new family. I think about the memories they will make here. I wonder if they will watch the branches sway in the wind like Nathan and I have. I'm so excited for them.
I'm also excited about the new adventures we'll have at the new house. I'm excited about all the new little friends Nathan will hopefully make in the new neighborhood. As a military brat, I always envied people who had best friends they've known since elementary school. When my family moved or my friends moved due to a relocation, we always said we'd keep in touch but eventually the letters would stop. J was one of those kids that grew up with the same group of friends and he says he always has great memories from those days. Life has so many memories. Time to go make some new ones.