While
Carylee
is off soaking up some sun in Jamaica and
Gina
tries to figure out which Sex in the City character she is, I am trying not to go completely crazy trying to get our house ready to be put on the market.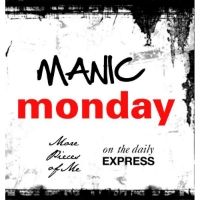 Today's Manic Monday really didn't need a subtitle. It's going to be a Manic Week. J is taking this week off to meet with contractors and get estimates to fix things around our current house.
Here's the long laundry list of crap that we need to have done:
1. Replace two huge windows.
2. Install tile in the kitchen and both bathrooms. We currently have sheet vinyl in all three areas. Ick. That will be a challenge with the 4 year old who needs to go to the bathroom every hour and a huge dog.
3. Steam clean the carpeted areas.
4. PACK and move stuff to storage. Thank goodness Nathan likes going to the storage unit. He likes opening and shutting the doors.
5. Last but not least. CLEAN.

I wonder if we'll ever get everything done. The glass and tile guys both said their parts would take three days. Which means that they'd be done by Thursday. I'm starting to think that we may have to push listing the house off until next Friday. Our original goal was to list by this Friday but if we finish all the improvements by Thursday, we still have to clean up after the contractors and our agent would still need to send a photographer to our house to take photos for the listing. J's being optimistic and hoping they can finish a day sooner than expected. We'll see. The plus side to waiting to list the house next week is that I can slow down just a tad. Not a whole lot but enough to where I don't need to medicate myself to help me stay sane.
As crazy busy as we were this weekend, we did take a break to go out to our lot. David Weekley sent us a picture of a sold sign on our lot. So we went out there and took the obligatory picture with our sign.
Our sales consultant is super anxious for us to set appointments with him to look at exterior options and for us to meet with our design consultant to pick out interior options but we're trying to hold off on moving to the next step of our build until we at least have this house on the market. All the more reason we need to get this house listed fast.