Happy Manic Monday ya'll! I hope ya'll had a restful Easter weekend with family. I'm happy to be linking up with Cary from
More Pieces of M
e and Gina from
On the Daily Express
.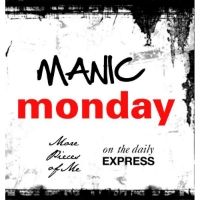 As I mentioned in a previous post, we are under contract for a new construction home from David Weekley. So Thursday we met with a realtor to talk about listing our current house. We really liked the agent and we are signing the listing agreement tonight and e-mailing to him tomorrow. For some reason, I've got it in my head that I want to list the house by May 2nd. Which means a lot of packing and moving stuff to storage. Which means cutting my current wardrobe by 3/4 to make the closets look spacious. Oh boy. I know I'll see my clothes again in a better place but trying to pick which pieces to keep out is a daunting task. I've started with my winter stuff. Next up...winter shoes. All the stressing of our impending listing brought on a migraine on Saturday that lasted until late Sunday. And that was with several rounds of prescription and over the counter meds. I hope this isn't going to be a common occurrence during this whole process. But just in case, I've scheduled a long overdue appointment with my doctor to talk about these headaches.
So what does that mean for today's outfit? REPEAT!
Shirt: Forever21 (JCrew version here), Skirt: JCrew No. 2 Pencil Skirt (love the color and pattern of this one), Steve Madden 'Ravesh' Pumps
Granted it's been forever since I've worn this outfit. So it kind of feels new. But I might have to get rid of this skirt. I was looking at it and I think there is a Play-Doh stain on it. One less thing to have to pack!