Happy Manic Monday everybody! I'm happy to be linking up with
More Pieces of Me
and
On the Daily Express
again this week.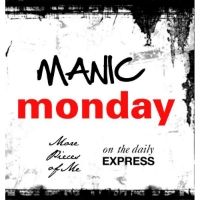 Hopefully your Monday wasn't too crazy since today was a holiday. I unfortunately had to work but at least it was a very quiet day at the office. Which was great because I feel beat up. Yesterday I ran the 3M Half Marathon. This wasn't my first half. My first one was back in 2012 but it's been so long the 3M might as well have been my first all over again. I started off the race feeling like the top picture.
But halfway through I started to feel like the little girl. Looking at race photos my feelings were confirmed. Ha. And there were times during the race that I thought I was going to leave Nathan motherless because I thought I was going to die right there on the course. But I managed to survive and finished with a chip time of 2:20:04. Woo hoo!
I'm not going to lie. I looked and felt beat up afterwards. Once the high wore off, the pain and exhaustion set in. As soon as I walked through the door I jumped in bed and conked out for 30 minutes before I felt Nathan trying to scale the bed. I was starving and thirsty but the idea of food made me want to hurl. After I showered, put on some makeup and got dressed we ventured out to one of my favorite brunch places only to find out they changed the menu up and not even my faves sounded appetizing. Nathan said he wanted pancakes so I managed to choke down a few bites of pancake because the booger changed his mind as soon as he got the food and refused to eat. What kid doesn't like pancakes?!? Weirdo. The rest of the day I spent in and out of bed.
Today I definitely feel more human. Human enough to have decided that I like running half marathons so much, that I think I'll sign up for the Austin Half Marathon. That's in...a month. I must be out of my mind but I've got a game plan. AND I kind of want to see how I would do this time compared to when I ran it back in 2012. So that's not complete crazy talk right? Running the Austin Half Marathon is all I've been thinking about since yesterday, despite hall the aches and pains. So today's outfit is a repeat so I can focus my thoughts on other things. :-)